Philly Cheesesteak Flatbread Pizza
2 Flatbreads
INGREDIENTS:
12 oz. Chip Steak
Montreal Steak Seasoning
Garlic Powder
Olive Oil
1/2 Red Onion,thinly sliced
2 Stonefire Garlic Naan Flatbreads
4 oz. Cream Cheese, softened
3 C. Shredded Italian Blend Cheese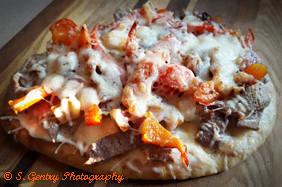 DIRECTIONS:
Heat a large skillet to medium-high heat. Drizzle pan with olive oil. Season steak with Monterey Steak Seasoning and garlic powder to taste. Cook until steak reaches desired level of doneness; let rest 5-10 minutes before slicing. Toss pepper and onion with additional seasoning and 1 Tbsp. oil; saute 2-4 minutes or until crisp-tender.

Meanwhile, bake naan at 350 degrees for 3-5 minutes on each side for a crispier crust.

Spread cream cheese over flatbreads. Sprinkle with 1 cup shredded cheese. Layer sliced steak, peppers and onions on top. Garnish with remaining cheese. Bake at 350 degrees for 3-5 minutes, just until cheese is melted.