Blueberry Crescent Cheese Danish
4 Danish
INGREDIENTS:
1 Tube Crescent Rolls
4 oz. Cream Cheese
1 T. Butter, melted
1/4 C. Light Brown Sugar
1/2 t. Vanilla Extract
Glaze:
1/4 C. Powdered Sugar
1/2 t. Vanilla Extract
2 t. Milk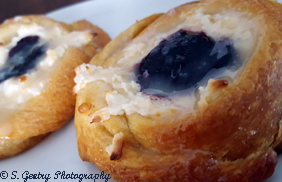 DIRECTIONS:
Preheat over to 350F. In a medium bowl mix together the softened cream cheese, 1/2 teaspoon of vanilla extract and the white sugar until well combined. Set aside.

Open crescent roll tube, lay out each triangle piece. Take two triangle pieces and make a square using two of them (4 squares total). Using your fingers, press the perforations together to seal. Brush the melted butter over each rectangle and sprinkle each with one teaspoon of the light brown sugar.

Take each rectangle and roll from the long side. Pinch each end closed. Then roll each into a snail-like coil. Press the centers flat and stretch the sides a bit, so you can fit the filling into the centers of each. Top each center with 2 tablespoons of the cream cheese mixture, and then a dollop of blueberry jam.

Bake in 350 degree preheated oven for about 16-19 minutes or until golden brown.

In a small bowl combine powdered sugar, the other 1/2 teaspoon of vanilla and milk, and stir until smooth, then drizzle over each warm Danish.