Parmesan Garlic Wings
4 Servings
INGREDIENTS:
Peanut Oil
1/2 C. Butter, melted
1-1/2 t. Garlic Powder
1/2 t. Onion Powder
Salt
1/4 t. Black Pepper
1/2 C. Parmesan Cheese, Grated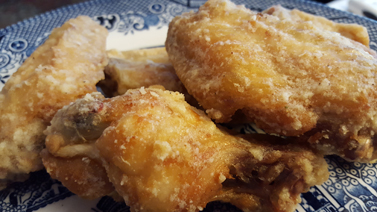 DIRECTIONS:
Cut wings into drumette and flat sections and discard the wing tips. Heat peanut oil in fryer to 350 degrees. Fry wings for 10 minutes or until lightly brown. Remove wings and briefly drain on a rack or paper towels.

While wings are frying combine butter, seasonings, and parmesan in a blender or food processor until smooth. Pour into a large stainless steel bowl. Add wings after draining and toss to coat.