Crockpot Cashew Chicken
4 Servings
INGREDIENTS:
2 Pounds Boneless Skinless Chicken Breasts
1/4 Cup All Purpose Flour
1/2 Teaspoon Black Pepper
1 Tablespoon Canola Oil
1/4 Cup Soy Sauce
2 Tablespoons Rice Wine Vinegar
2 Tablespoons Ketchup
2 Tablespoons Brown Sugar
1 Clove Garlic, Minced
1/2 Teaspoon Grated Fresh Ginger
1/4 Teaspoon Red Pepper Flakes
1/2 Cup Cashews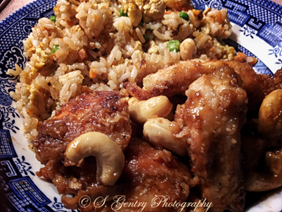 DIRECTIONS:
Cut chicken breast into strips 2-3 inches long.

Combine flour and pepper in a plastic bag. Add chicken to bag and shake to coat the chicken with flour.

Heat oil in a large skillet and brown chicken two minutes on each side. Place chicken in slow cooker.

Combine soy sauce, vinegar, ketchup, sugar, garlic, and pepper flakes in a small bowl. Pour over chicken. Cover crockpot and cook on low for 3-4 hours. Add cashews just before serving. Serve with Fried Rice.