Crockpot Swedish Meatballs
INGREDIENTS:
12 Ounces Beef Gravy
12 Ounces Mushroom Gravy
1 Pound Sliced Mushrooms
2 Tablespoons Butter
1 Large Onion, Cut Into Chunks
1 Tablespoon Worcestershire
1/4 Teaspoon Allspice
2 Pounds Frozen Meatballs, Thawed
1 Cup Sour Cream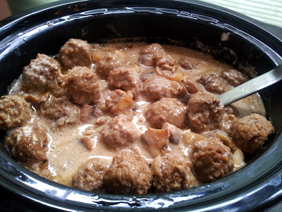 DIRECTIONS:
Saute mushrooms in butter until tender. In crockpot, combine mushrooms, gravy, onion, Worcestershire sauce, and allspice. Stir meatballs into the sauce. Cover and cook on Low for 6 hours. Gradually stir about 1/2 cup of the hot gravy mixture into the sour cream. Stir the sour cream mixture into the slow cooker mixture.

Can also be served as a main dish over hot buttered noodles.